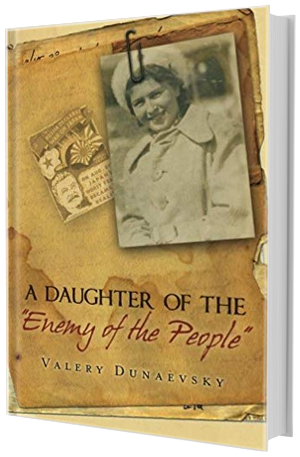 This book is dedicated to my mother Alla Dunayevskaya, who, through kindness, cheerfulness, intelligence, dignity, and lack of cynicism (despite the severe blows that her family suffered in the tumultuous events that shaped the former USSR in the 1930s-1950s) became an inspiration to me and many who met her. Although she came to America at the mature age of 62, she was able to adjust and be a valuable member of society to her last days.
She was one of very few Soviet emigrants recognized in the Marquis' "Who's Who in American Women," 17th edition. Along with highlighting the image of my mother, I am trying to highlight in the book also the images of several other relatives, some of whom lived short albeit heroic and highly creative lives which could serve as an example of perseverance against all odds. Keeping memories about these people alive is a way of paying homage to them. Among these relatives is my uncle, Alla's brother, a renowned mathematician Witold Shmulian who was heroically killed at the liberation of Warsaw and who from the trenches of WWII sent the mathematic treatises into the USSR Academy of Sciences; among them is also my maternal grandmother, Isabella Shmulian, who was a free lance playwright and poetess and who was remarkable in that she put various Russian fairy tales and pieces of literature to a poetic form.
The book was conceived with a purpose to provide my English speaking daughter and her peers with a glimpse to the family history which is naturally intertwined with a historical and spiritual fabric of the time.
The goal of the book has been accomplished through – Demonstration of the background and episodes from the life of my mother and other relatives, from my own life, and my reflection on these. – Addressing the respective ideologies, policies, events (and especially some WWII and Cold War events) that directly or indirectly affected life of my family and which like the Holocaust, that my parents narrowly escaped, continue long after to be a source for a serious contemplation. – Bringing up the pieces of poetry that my mother and my maternal grandmother enjoyed or which just represent the sound bites of the era. Some of them are first time given in English and in adaptation done by myself. Few pieces of poetry of my maternal grandmother are also presented. The book shows also how the extreme ideologies of a Stalin brand socialism and Hitler Nazism resemble each other.